The National Trust has today launched a nationwide campaign to encourage sofa-bound children to take to the outdoors and enjoy classic adventures from skimming stones to building dens.
The charity's 50 things to do before you're 11¾ campaign provides a checklist for under-12s (and those who are young at heart) including everything from running around in the rain and bug hunting, to setting up a snail race, damming a stream, flying a kite and making a (delicious) mud pie.
To help bring to life these simple pleasures, the Trust has formed a group of Elite Rangers who will share their expert tips and passion on enjoying outdoor adventures including the East of England's own Nige' Stannett, also known as Midas the treasure hunter! Nige, a learning officer and kayak instructor at Brancaster Millennium Activity Centre, is no stranger to spending time with children in the outdoors and was the perfect man for the job.
The five rangers, all Trust staff, come from across the UK and range in age from 29 to 49. As well as Nige' the rangers are a 6ft 3in tree climbing expert, who has scaled 50 metre-high trees, (a.k.a. Tree Man), Captain Skim who can skim a stone over 26 times, Den-Boy, an outdoor hideaway-building champion, and a minibeast expert (aka The Bug Catcher) who can name over 300 varieties of moth!
The '50 things to do before you're 11¾' initiative is in response to a report commissioned by the National Trust which reveals fewer than one in ten children regularly play in wild places; compared to almost half a generation ago, a third have never climbed a tree, one in ten can't ride a bike, and three times as many are taken to hospital after falling out of bed, as from falling out of a tree.*
Kids can pick up a free 50 things to do before you're 11¾ scrapbook from participating properties, including Brancaster Millennium Activity Centre – and start ticking off their outdoor adventures. Plus, the fun can continue at home by visiting www.nationaltrust.org.uk/50things where children can fill in their completed activities and earn points towards their very own explorer badge.
To help get families started, the National Trust is holding a Free Weekend (21st and 22nd April) when over 200 of its houses and gardens will be open for free, as well as all the countryside spaces it cares for, which are always free access. Properties will include Anglesey Abbey, Blickling Hall, Felbrigg Hall, Houghton Mill, Ickworth, Lavenham Guildhall, Melford Hall, Oxburgh Hall, Peckover House, Sutton Hoo, Wicken Fen and Wimpole Hall and Home Farm.
Justin Scully, Assistant Director of Operations for the National Trust in the East of England comments:
"We're hoping that the nation's children will embrace our 50 things campaign, it's a great way to encourage more families to enjoy adventures outdoors and our free weekend is the perfect opportunity to visit. With heaps of enthusiasm for the outdoors, our staff and volunteers are a fantastic bunch just waiting to encourage kids to tick off the 50 things. The question is, will your family be up for the challenge?"
Nige' Stannett (aka Midas) from Brancaster Millennium Activity Centre comments:
"We see lots of children and families here at BMAC, whether it's through school visits or family fun weeks in the holidays. The North Norfolk Coast is our playground and I'm passionate about reconnecting children with the outdoors. I couldn't be more supportive of this campaign."
The 50 Things to Do Before you're 11 ¾:

1. Climb a tree
2. Roll down a really big hill
3. Camp out in the wild
4. Build a den
5. Skim a stone
6. Run around in the rain
7. Fly a kite
8. Catch a fish with a net
9. Eat an apple straight from a tree
10. Play conkers
11. Throw some snow
12. Hunt for treasure on the beach
13. Make a mud pie
14. Dam a stream
15. Go sledging
16. Bury someone in the sand
17. Set up a snail race
18. Balance on a fallen tree
19. Swing on a rope swing
20. Make a mud slide
21. Eat blackberries growing in the wild
22. Take a look inside a tree
23. Visit an island
24. Feel like you're flying in the wind
25. Make a grass trumpet
26. Hunt for fossils and bones
27. Watch the sun wake up
28. Climb a huge hill
29. Get behind a waterfall
30. Feed a bird from your hand
31. Hunt for bugs
32. Find some frogspawn
33. Catch a butterfly in a net
34. Track wild animals
35. Discover what's in a pond
36. Call an owl
37. Check out the crazy creatures in a rock pool
38. Bring up a butterfly
39. Catch a crab
40. Go on a nature walk at night
41. Plant it, grow it, eat it
42. Go wild swimming
43. Go rafting
44. Light a fire without matches
45. Find your way with a map and compass
46. Try bouldering
47. Cook on a campfire
48. Try abseiling
49. Find a geocache
50. Canoe down a river
The National Trust Elite Rangers are: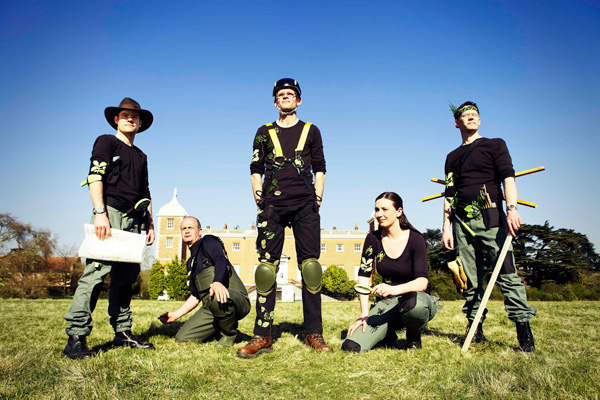 1. Tree-Man, Des Cotton from York, Yorkshire, aged 38
2. Den Boy, Andrew Hunt from Dorset, aged 30
3. Captain Skim, Mark Astley from North West, aged 49
4. Midas, Nigel Stannett from Norwich, East of England, aged 29
5. The Bug Catcher, Laura Broadhurst from Bromsgrove, Midlands, aged 31
—————-
* Statistics from Natural England (2009) Childhood and Nature: a survey on changing relationships with nature across generations. http://www.naturalengland.org.uk/Images/Childhood%20and%20Nature%20Survey_tcm6-10515.pdf
And Play England: August 2011 (a third have never climbed a tree and one in ten can't ride a bike)
——————————-