HALESWORTH
Halesworth & District Museum
Alongside some unique moveable platforms with a restored signal box nearby the Museum is based in the station building. Local history, archaeology and geology along with regularly changing exhibitions.
Facilities: Shop and toilets.
The Railway Station, Station Road, Halesworth. Tel: 01986 875351/3030.
Admission: FREE. Website.
HAVERHILL
Haverhill & District Local History Centre
Housed in the Victorian Town Hall features a main annual exhibition and a number of shorter displays. Also over 4,000 photographs and newspapers on microfilm. Useful study centre with its many resources.
Facilities: Coffee shop and toilets.
Town Hall Arts Centre, High Street, Haverhill. Tel: 01440 714962.
Admission: FREE.
IPSWICH
Christchurch Mansion
Fine Tudor building set in the ancient and beautiful Christchurch Park in the centre of Ipswich. Housed inside are Tudor and Victorian room settings, fine period furniture. Constable and Gainsborough (both local artists) paintings. Examples of Tudor and Stuart portraits. British pottery and porcelain (including one of the finest examples of Lowestoft Pottery).
Facilities: Tearoom, shop and toilets.
Christchurch Park, Soane Street, Ipswich. Tel: 01473 433554.
Admission: FREE.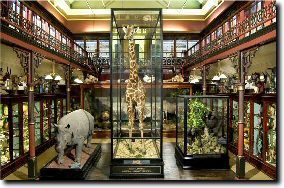 IPSWICH
Ipswich Museum
As you walk into the first hall you are greeted with the majestic sight of a giraffe, a rhinoceros and gorillas this sets the scene for at least 2 hours of wonderment. Local history is covered along with fine Roman and Saxon galleries which profile the GIPPESWYK the first Saxon Town in England. Everyone, young or old, will love the Ipswich Museum experience. Gone are the days of "don't touch" with many items inviting you to touch. Children have their own touch and explore and push buttons sections along with quizzes along the way which also get the adults joining in (with or without children).
Facilities: Tearoom, shop and toilets.
High Street, Ipswich. Tel: 01473 433550.
Admission: FREE. Website.
IPSWICH
Ipswich Transport Museum
A variety of vehicles used for travel and work in Ipswich over the past 200 years. Also exhibitions on local industry as well as annual programme of secial events including the Ipswich – Felixstowe Car Rally.
Facilities: Cafe, shop and toilets.
old Trolley Bus Depot, Cobham Road, Ipswich.
Tel: 01473 715666.
Admission: CHARGE. Website.
IPSWICH
Clifford Road Air Raid Shelter Museum
Built in 1940 at a cost of around £680 to provide protection for 200 people. Built beneath an Edwardian School playground, this is one of the finest and best preserved examples of it's kind.
Clifford Road Air Raid Shelter Museum offers a unique learning experience for children. Open to schools on weekdays.
Facilities: Ample parking on school playground.
Note: Open to the public April to October every first weekend of the month, Saturdays 10am-2pm; sundays 1pm-5pm. Also open (from June) on Wednesday evenings from 7pm till 9pm following the weekend oenings. Other times by arrangement for groups of 10 or more.
Clifford Road Primary School Museum, Clifford Road, Ipswich. Tel: 01473 251605.
Admission: CHARGE.. Website.
IPSWICH – MARTLESHAM HEATH
Martlesham Heath Aviation Society Control Tower Museum
In 1916 the Armament Experimental Flight moved to the East Coast, along with the Wiltshire based Aircraft Testing Flight. Commissioned in January 1917 the new aerodrome commenced work as the Aircraft Testing Flight. After World War I both military and civil aircraft were tested there.
During World War II it played a major part in securing England's East Coast and many famous pilots were stationed there including Douglas Bader. The Control tower has been refurbished by members of the Martlesham Heath Aviation Society.
Facilities: Free car parking. PLEASE NOTE: No provision for wheelchairs.
Note: Open Sundays Only – from the first Sunday in April until the last Sunday in October, 2pm-4.30pm.
Parker's Place, Martlesham Heath. (On the A12 at the Tesco roundabut take Martlesham Heath exit onto Eagleway, 3rd turning on right into Parker's Place). Tel: 01473 624510 or 435104.
Admission: FREE.
LAVENHAM
Lavenham Guildhall Museum
Fine timber-framed building which is also home to local history displays relating to the railway, the Taylor family and the Guildhall itself. You will also find a significant display on the manufacture and trade of medieval cloth and a tranquil courtyard garden with restored 19th Century lock-up and mortuary.
Facilities: Shop and tearoom.
Market Place, Lavenham.
Tel: 01787 247 646.
Admission: CHARGE.
LAVENHAM
Little Hall
Timber-framed, wool merchants house first built in the 1390s with Tudor additions. It was restored during the 1920/30s by the Gayer Anderson brothers and proved a home for evacuee childing during World War II. the house has a fascinating history, intresting furniture, pictures, artefacts and lovely walled gardens.
Market Place, Lavenham.
Tel: 01787 247179 or 01449 740612 for group bookings.
Admission: CHARGE.

LEISTON
The Long Shop Museum
From the first woman doctor to the first production line, Leiston's history has been influenced by the Garrett Family for over 200 years and it's all told in the Long Shop. Exhibits to delight and fascinate young and old, from the deepest water bore in Suffolk, Leiston USAAF in World War II, the 1917 Zeppelin crash at nearby Theberton and the Agricultural and Steam machines produced in Leiston.
Facilities: Free parking.
Main Street, Leiston, Suffolk. Tel: 01728 832189.
Admission: CHARGE.. Website.
Open: 1st April-end October, Mondays to Saturdays 10am-5pm; Sunday 11am-5pm.
LOWESTOFT
East Anglia Transport Museum
Take a stroll back thru time as you walk along the period street. Peer in the shop windows at everyday items you'd almost forgotten. Trams trundle and trolley buses purr by. Ride the trams, trolley buses and train. Staffed entirely by volunteers you can see restoration work in progress.
Facilities: Cafe, shop, toilets, picnic areas, free parking, education room.
Chapel Road, Carlton Colville, Lowestoft. Tel: 01502 518459.
Admission: CHARGE. Website